We have quite the announcement to make. It is a new CMS-as-a-service to power the next generation of non-profit campaigns and digital magazines, and it is called Wings.
While still in closed development at Bolster – that would be us, a Rotterdam-based boutique digital agency, hi 👋 – it is already being used to develop a slew of digital platforms for non-profit and media organizations in the Netherlands and abroad.
TL;DR version
Wings is an opinionated CMS-as-a-service geared towards stories and campaigns, great for blogs, storytelling and non-profit campaigns with built-in structural support for specific content types and campaigining tools such as petitions, signups and donations. It allows for speedy and efficient development with low setup cost and continuous innovation. As it is headless, you could use any frontend framework or visual design you would like.
At Bolster, we like to use Wings in combination with Gatsby (a React-based static site generator). Also, we have designed a bunch of styles and layouts that serve as excellent boiler plates to use as a starting point for custom designs. For example, petition pages could very well look like this: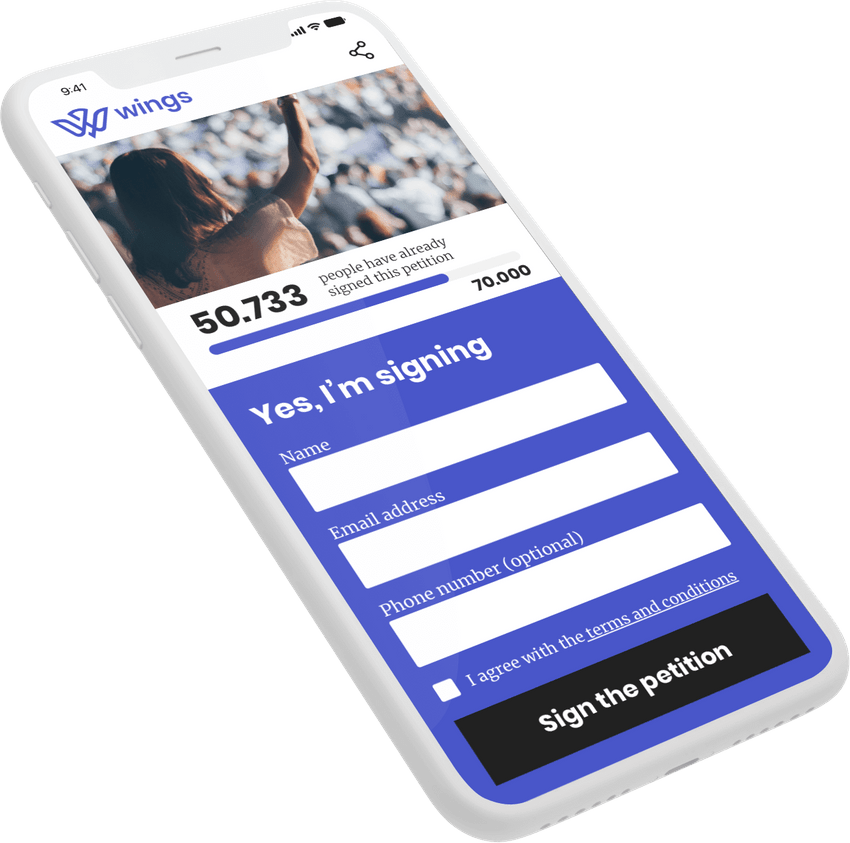 But that's just a frontend design that we happen to like. We also happen to like a story to have a layout like the one you are experiencing right now – the website you are currently visiting is obviously also running on Wings.
So, why do we think this headless CMS-as-a-service is a pretty good idea?
The rise of the headless CMS
As of 2018, the need for innovation in the world of website development in general is clear as day. Organizations still need a Very Good Website. We have built quite a few ourselves. And we did it the old-fashioned way, relatively speaking, like many digital agencies and developers do: building stand-alone websites with a feature-rich traditional CMS like WordPress or Drupal, using third-party plugins or coding our own. It worked well for us, and it may work well for others for a long time to come, but we wanted to do better.
The thing is: the traditional way of website development is, generally speaking, a lot of work. If you want to match the quality of, say, Medium in terms of editing and content presentation, or run complex campaigns with custom integrations with CRM and email systems, combining great visual design with utilizing the latest and greatest frontend frameworks, going the traditional route may not be the best course of action – especially when you are working for non-profit and media organizations whose budgets are significantly more modest than your typical A-list global brand.
Enter the headless CMS: a back-end only content management system, which is built from the ground up as a content repository. It makes content available via APIs, allowing for perfect presentation on any screen or device. It typically results in a more innovative and developer-friendly setup, allowing for more freedom and flexibility on the front-end side. If you are interested in reading more about headless and decoupled CMS's, head over to Contentful to read a great explanation.
Why Wings?
There are quite a few alternatives to consider.
Wings vs. Medium or other social media. We love Medium – they've pretty much nailed the perfect design for long-form digital content, while also innovating the editoral user experience. But just like Facebook and Linkedin, users do not own the relationships that are being built. Medium actually abruptly cancelled all membership programs they offered to indie publishers, around the time when they pivoted to a Spotify-like model where users become paying subscribers to Medium itself, instead of the magazines that were using Medium. Social media platforms will remain important for discovery and secondary distribution of content, but it should not be the primary residence for your content or relationships. As the saying goes: don't build your house on rented land.
Wings vs. WordPress/Drupal and others. To be fair: with a big enough budget, you can build pretty much anything you want using traditional CMS's. We still use WordPress quite a bit. But cost-effective digital development for – in our case – non-profits and media organizations would be better served with a different set-up. If you are a nonprofit or media organization – or would simply launch a great digital magazine as a blog to complement your main corporate website - using Wings enables you to get off the ground quickly, getting better results with a lower budget.
Wings vs all-in-one campaigning toolkits. Many policital and ngo campaigns use all-in-one campaigning toolkits such as Action Network, BSD Tools, NationBuilder and others, which offer CRM services combined with email campaigning & community organizing tools and web pages to display campaign pages with forms. We have used a couple of these toolkits ourselves, and they sure offer a lot of functionality. But they have downsides. They typically generate pages with restrictive templates for things like donation or petition forms, allowing you mainly to 'embed' forms elsewhere. They are often not great at interoperability and offer limited room for customization and custom design. They are often used alongside other websites, email services and CRM systems, leading to a lot of different web environments, inconsistent UX and design, multiple non-synchronized member databases used simultaneously, and a lot of organizational overhead. Also, for the most part, they do not really shine in the content management and presentation department.
Wings vs Contentful or others headless CMS's: Wings is definitely not the first headless CMS service, and a lot of them are awesome. In short: Wings is opinionated, it is geared at non-profit campaigns and digital magazines – where others are aimed at other markets or serve as a generic platform for any use case. Wings has built-in structural support for non-profit campaigns and stories, allowing for faster innovation and shorter production times, allowing Wings to simply create better value-for-money than other platforms.
Interested?
We are already open for business; as Wings' first customer, Bolster is hard at work creating Wings-powered platforms for our clients, including GroenLinks, De Fietsersbond, Young & United and others. Meanwhile, we're preparing Wings' public launch, when we will start letting other agencies and developers to use it to build great things. Non-profit organizations, magazines or others who would like to work with us, send an email to info@bureaubolster.nl or get in touch here. If you want to stay updated: fill out your email address and subscribe! You can also find us on Facebook and Twitter.